Nearly 160,000 people are living in hidden, often overcrowded and sometimes dangerous bedsit-style accommodation across England, analysis has found.
Intelligence compiled by councils suggests there are almost 32,000 unlicensed large houses in multiple occupation (HMOs). These are believed to be home to at least 159,340 tenants, who are often drawn by cheaper rents amid the cost of living crisis.
Conditions can be dire, with examples of more than 10 people sharing a single bathroom, squalid conditions and little protection in place should a fire break out.
Landlords have doubled their borrowing to invest in HMOs since 2018. A landlord renting to a single family can expect to generate 5% of the property's value in annual rent, whereas a licensed HMO typically produces about 7.5%, and in some cases 10%. Profits in unlicensed bedsits are likely to be even higher, as landlords can cram in more tenants and do not have to comply with licensing standards.
The analysis on the rise of "bedsit Britain" is part of the Guardian's Living Hell series, focusing on the rented private sector.
Based on local authority statistics submitted to the government between 2011 and 2022, the estimated number of larger hidden bedsits – those that accommodate more than five unrelated people sharing bathrooms and kitchens – has increased by 46% in the past 10 years in England.
There is no oversight of occupancy rates, fire safety measures or other living conditions in unlicensed shared properties.
Large HMOs require a licence in England but smaller ones only require a licence in some parts of the country. The most recent estimates suggest there are more than 367,000 smaller bedsits in England, with a population of at least 1 million.
Southend in Essex, which the Guardian's analysis suggests has more than 670 bedsits operating below the radar of the council's housing enforcement team, has prosecuted two landlords for operating unlicensed HMOs this year, exposing the profits that can be made by cramming people into poorly maintained buildings.
One landlord charged 18 tenants a total of more than £5,800 a month for 11 rooms in a squalid, rat-infested former hotel with no working kitchen, unusable toilets, a faulty gas supply, blocked drains and partly blocked fire escapes.
Another landlord collected £5,480 a month for a mouldy, overcrowded property with no heating, limited fire escape access and cooking appliances installed next to sofas. The 11 rooms were let to 16 adults and five children, with some families sharing a single room.
Southend council said there appeared to have been an increase in the number of HMOs in the seaside city, with enforcement officers working to ensure they had planning permission and met housing standards.
Haringey, in north London, which has issued 43 fines to landlords running unlicensed HMOs since May 2021, said officers were uncovering accommodation where three or four people, or sometimes whole families, shared a single room.
"It's not just single adults. We see couples with babies living in single rooms in HMOs. It is not uncommon," said Sarah Williams, Haringey's cabinet member for housing. "It makes me very angry. The level of this problem needs central government intervention. We have to regulate and control the rental market."
The borough, which has about 22,000 people living in 5,000 HMOs, has seen an increase in HMO conversions. Last year there was a near 20% increase in the number of planning applications to turn family homes into HMOs compared with the average over the previous five years.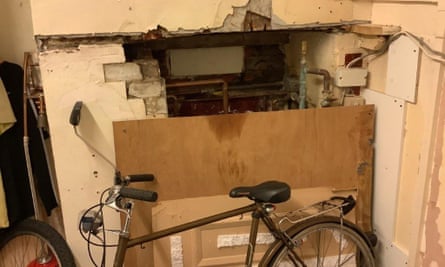 Williams said landlords who had traditionally signed contracts with the council to provide emergency homeless accommodation were now moving into the private HMO market to take advantage of higher rents. "We are being priced out of the market," she said.
Family homes are still being lost in many parts of the country, despite councils bringing in planning restrictions to halt the spread of HMOs.
Nigel Wicks, who carries out investigations and appears at planning hearings for councils across the country, said some developers went ahead without permission and persisted whether or not they got approval. "Where rewards are extremely high for minimal investment, developers are ahead of the game and local planning authorities struggle to keep up," he said.
He frequently saw people, including children, living in substandard conditions. "Only last week I attended a property, meant to provide a three-bedroom family home, that was divided into nine units, three in the basement, without natural light … At least one unit, measuring less than 30 square metres with a headroom of less than 2 metres, was occupied by a couple with a child," he said.
The wider HMO market has expanded in recent years. According to UK Finance, the banking industry body, lending to buy HMOs more than doubled between 2018 and 2022, from £310m to £683m.
The Department for Levelling Up, Housing and Communities said it was determined to crack down on rogue landlords. "We have put measures in place that make it easier for councils to effectively tackle unlicensed HMOs, introducing civil penalties of up to £30,000 and rent repayment orders for a wide range of offences," it said.
Robert Johnson is a UK-based business writer specializing in finance and entrepreneurship. With an eye for market trends and a keen interest in the corporate world, he offers readers valuable insights into business developments.