Key events
David Hytner was at the Tose Proeski Arena tonight. His verdict has landed. Thanks for reading this MBM. Nighty night.
Gareth Southgate talks to Channel 4. "The really big results were in March … winning in Italy and the result against Ukraine … it meant coming here tonight was a different sort of test … given everything had already been achieved the mentality was excellent … the quality with the ball was good on a very difficult pitch … the final pass was difficult to find against their defence … there were lots of positive performances … Rico Lewis was excellent … his composure with the ball … the fact he responded to the setback, which was really harsh … he's a super footballer."
Harry Kane speaks to Channel 4. "A difficult game … we knew it was going to be tough … coming away from home against a decent side … on a pitch that's difficult to play our style of football … credit to the boys, we went behind against the run of play to a soft penalty and second half we came back with a real energy … we couldn't get the final finish … it was a shame we couldn't get another to get another win … I'm pretty sure it was an own goal … I know people expect us to win by five or six but these done a job on Italy in the World Cup to knock them out … we can be proud by the way the qualification campaign has gone … Rico Lewis can be really proud of his debut … I'm sure he'll be back with us."
England finish their Group C campaign unbeaten. They'll end the calendar year of 2023 unbeaten, and they'll go into the Euro 2024 draw as one of the six top seeds. They've not been particularly impressive during the Jude Bellingham interregnum of the last five days, but all the hard work was done earlier in the year against Italy, so on the whole, you have to say this job qualifies as a good one.
England 20pts (Q)

Italy 14 (Q)

Ukraine 14 (P)

North Macedonia 8

Malta 0
FULL TIME: North Macedonia 1-1 England
… so that's that.
90 min +5: "I think there's going to be a late twist," ventures Channel 4 seer Dion Dublin.
90 min +4: England are pressing for the winner, albeit in not particularly convincing style. "Dion Dublin says Rashford's not set his sights yet, he's only been on a few minutes," reports Damian Clarke. "It was nearly ten yards wide!"
90 min +3: North Macedonia take their time over a throw in the classic clock-management style.
90 min +1: A free kick for England, the best part of 30 yards out. Rashford takes and pulls it miles wide left.
90 min: Atanasov is replaced by Elezi. There will be six additional minutes.
88 min: Walker skittles Elmas out on the left wing. On Channel 4, Dion Dublin, whose co-commentary has consisted of little more than a series of affronted yelps and barks of one-eyed bluster, deems it "a clean challenge." Serafimov meets the free kick and heads over the bar. Pickford had it covered.
86 min: Ashkovski comes on for Dimoski.
85 min: More pantomime boos for Maguire, who sends a bouncing ball back to Pickford. The keeper is forced to hack wildly out of play before being closed down. The crowd cheer. Pickford's none too happy with his defender, who has had a mixed evening to say the least.
84 min: England make a triple change. Saka, Alexander-Arnold and Grealish make way for Palmer, Rashford and Phillips.
82 min: Dimoski hassles Grealish a bit too readily out on the left. Free kick, which Foden swings long for Maguire at the far post. Maguire rises highest and plants a header straight at Dimitrievski. He's penalised anyway for pressing his palm on the top of Musliu's noggin while leaping.
80 min: Kane wins a corner down the right. Foden sends it long for Maguire, who slaps a header harmlessly wide left.
79 min: Alexander-Arnold feeds Grealish down the left. Grealish overhits his cross. England are huffing and puffing a bit here.
77 min: Guehi's poor ball out from the back is snaffled by Dimoski, who rampages upfield. England are fortunate that Dimoski's pass wide left to Elmas rolls behind the man, allowing Walker to get back and put a stop to the break. "Tim Berners-Lee Dixon," hacks Andrew Goudie.
75 min: North Macedonia make a double change. Off go Miovski and Alimi, on come Kostadinov and Ristovski.
74 min: Kane, probing from deep, nearly releases Alexander-Arnold down the middle with a clever reverse pass. Not quite, but full marks for vision.
72 min: Lewis lashes the ball into the net from six yards. Unfortunately play had already stopped, Saka rather ludicrously penalised for a non-challenge on Alioski, who fell of his own accord while contesting a high ball on the edge of the six-yard box. North Macedonia get away with one there … although a more pedantic referee may have taken issue with Lewis belting the ball home in frustration, and he's already been booked. I mean, it would have been beyond ridiculous … but you know how officialdom rolls sometimes.
71 min: Lewis crosses from the left. Saka traps, spins and shoots from the penalty spot. Blocked. Foden is furious, he was clear to Saka's right and wanted playing in.
69 min: If there was any lingering confusion, the England equaliser has been confirmed by Uefa to have been scored by Atanasov. Kane remains on 62 international goals.
67 min: … so having said that, there's a sudden drop in pace and intensity. If nothing else, it allows us to turn once again to Alun Pugh's password-hacking mission. "Back in the day Mathew DIAL UPson would have have been a shout," writes Ian Sargeant, "but surely the password wold be Ctrl Alt DELEte ALI?"
65 min: Alexander-Arnold's flicked clearance is blocked and falls to Elmas, who has a crack from distance. His shot twangs off a white shirt and out for a corner, from which nothing comes. Both teams are well up for this.
63 min: Elmas tussles with Grealish on the edge of the England box. Given he's already been booked, he's seriously stress-testing the referee's patience here.
61 min: England suddenly look transformed. They're pushing the hosts back and probing hither and yon. Foden crosses from the left. Dimoski high-kicks away from goal. Did the ball hit his arm? Neither referee nor VAR show interest in giving a penalty.
GOAL! North Macedonia 1-1 England (Atanasov og 59)
… with his first touch, steers Foden's cross into the bottom left with a stooping header! Ah, hold on, it came off Atanasov. But it was Kane's sheer presence that forced his opponent into the mistake.
58 min: Before the corner is taken, Kane comes on for Watkins. And …
57 min: Alexander-Arnold calms down quickly and showcases his better side. First he nearly finds Lewis with an outrageous outside-of-boot cross from the right. Then a long-distance curler towards the top right is deflected out for a corner.
56 min: Alexander-Arnold thinks he's won a throw down the right. It's North Macedonia's, though. He slams the ball to the turf petulantly and is booked.
54 min: Grealish is relentless. He comes again down the left and is fairly unfortunate not to win a free kick after some particularly close attention from Manev. He has a moan at the referee, and you can see his point.
52 min: Guehi catches Bardhi on the knee. Just a free kick. North Macedonia load the box, but Alioski lumps the set piece over everyone's head and out for a goal kick.
51 min: Grealish responds excellently to the disappointment, chasing after a clever Foden flick down the middle. For a second it looks like he'll get a chance to shoot from the edge of the box, but he's quickly swarmed by red shirts and Dimitrievski comes off his line to collect.
NO GOAL! North Macedonia 1-0 England
Yep, it was fairly obviously offside. No idea why the VAR took so long. Shame that Saka's sensational work was all for nothing.
49 min: A long VAR check.
48 min: However there's going to be a VAR check. Grealish may well have been a smidgen offside.
GOAL! North Macedonia 1-1 England (Grealish 47)
Saka dribbles elegantly in from the right, drawing four red shirts before threading a cross across the face of goal. Grealish gets in ahead of Dimoski and taps home from a couple of yards. Grealish gets the credit but that's all about Saka's brilliance!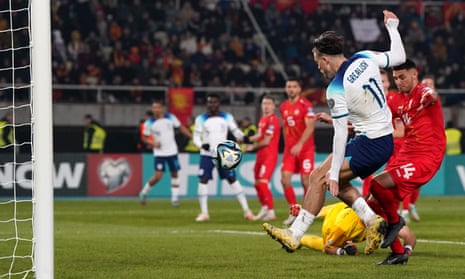 46 min: Maguire takes up possession a couple of times and is booed in the pantomime style, presumably for his role in the incident just before the break, and perhaps that ludicrous challenge on Elmas that could easily have ended in a penalty. "I should be used to the one-eyed jingoism of most pundits during England matches by now," writes Tom Atkins, "but Dion Dublin's pathetic dismissal of what looked like a very good penalty shout still got my goat. For some reason I expected better from Channel 4."
North Macedonia get the second half underway. No changes.
Half-time e-letters. "You can debate the relative merits of England's assorted right backs until the cows come home," begins Matt Dony. "He may not be top of the pile defensively, but there are very few right backs, or indeed footballers, who strike a ball as aesthetically pleasingly as Alexander-Arnold. The photo halfway down the MBM is a thing of beauty."
"Right! That's it – not good enough," booms Charles Antaki. "Come the hour, come the hero – bring on Hendo!"
"The list of prohibited items may be worth a mention," writes our man Philip Cornwall, out in Skopje on a busman's holiday. He quotes the England supporters travel club … and yes, it does seem a little over-zealous. "Local authorities are advising supporters to avoid bringing keys with them to the stadium if they can avoid doing so. However, they do understand there will be circumstances where this is not possible (e.g. hire cars, hotels, Airbnb, etc). We have also been advised that the following items will be taken from supporters upon entry; vapes, phone chargers/charging banks, coins, lighters. We have been informed that 'small handbags' will be allowed into the stadium but normal-sized backpacks are still forbidden." At least they've let him keep his trousers.
"Google Ehiogu," suggests our old friend Alex Ross. "ISDN Dublin. And now I will stop, promise."
HALF TIME: North Macedonia 1-0 England
We're halfway to a shock in Skopje.
45 min +5: VAR's not interested. Maguire is furious that Dimitrievski has accused him of play-acting. England could probably do with hearing the whistle so they can calm down during the break.
45 min +4: The corner's whistled into the mixer. Elmas catches a stooping Maguire with his boot. Guehi had been lightly shoved from behind as well. VAR wants a look at this.
45 min +3: In the London-bus style, another shot on target follows almost immediately! Alexander-Arnold sends a rising, swerving drive goalwards, and Dimitrievski tips over the bar. Fine football all round.
45 min +1: Lewis, who has played very well despite the penalty incident, threads a shot towards the bottom right from the edge of the D. A bit more power and he might have beaten Dimitrievski. He smiles wryly. At least that's a shot on target now.
45 min: There will be four additional first-half minutes. "The look on the ref's face tells me he knows it's not a penalty, but he's been told if it's sent for review, he has to give it," writes Hugh Molloy. "Ludicrous. Saying that, the Maguire one was a clear foul and penalty!"
43 min: Lewis responds well to his misfortune, battling away down the left flank and winning a free kick out of what initially looked like an unpromising situation. The hosts deal with Alexander-Arnold's delivery easily enough. England have yet to work Dimitrievski, they haven't had a shot on target. To be fair, Rice hit the post, but the numbers are bare.
42 min: That's not the sort of decision that's made every day. Some referees would have let that go. Lewis cops for a booking instead. The Maguire incident looked more a penalty, to be honest. Some sort of karmic balance?
GOAL! North Macedonia 1-0 England (Bardhi 41)
Bardhi sends the penalty to the right. It's not a good spot kick. Pickford parries brilliantly … but the ball pings back to Bardhi, who slots into the bottom left with the keeper prone. Pickford so unlucky. North Macedonia lead!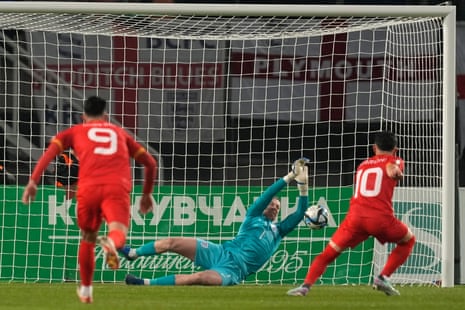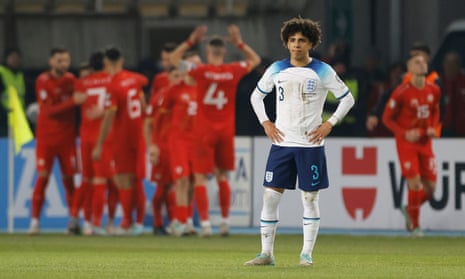 40 min: … but a hand in the face is a hand in the face. Bardhi steps up and …
Penalty to North Macedonia!
39 min: The referee draws a TV screen in the air, then points at the spot. Penalty! Poor Rico Lewis, giving away a spot kick on his debut. He's confused as to why it's been given.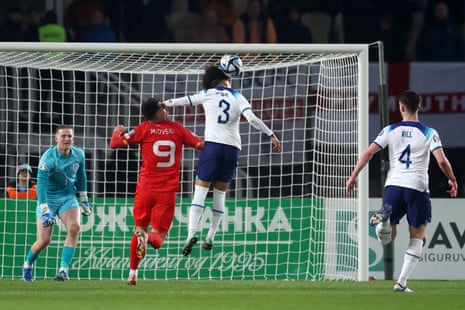 38 min: Lewis goes up for a loose high ball with Miovski. He claps his hand in the striker's face. Miovski goes down. VAR is going to have a look at this. The referee goes over to the screen for a look. A long look.
Sophie Anderson, a UK-based writer, is your guide to the latest trends, viral sensations, and internet phenomena. With a finger on the pulse of digital culture, she explores what's trending across social media and pop culture, keeping readers in the know about the latest online sensations.