US YouTuber and host of The Blaze TV, Lauren Chen, has hit out at US President Joe Biden's efficiency as leader, amid the latest polling against former President Donald Trump.
Biden has frequently caused concern during his time in office, as his cognitive ability has become centre stage of the President's engagements and state visits on the world stage.
---
Celebrating his 81st birthday on Monday, Biden was presented with two turkeys, which were pardoned in a ceremony at The White House.
During the event, Biden joked that it was "difficult turning 60".
Joe Biden has frequently been spotted falling over or being confused at press conferences
Reuters
Biden also appeared to confuse pop stars Taylor Swift and Britney Spears, while discussing Swift's recent concert in Brazil.
The President said of pardoning the turkeys: "You could say it's even harder than getting a ticket to the Renaissance tour…or Britney's tour…she's down in…it's kind of warm in Brazil right now."
Speaking to GB News, The Blaze TV host Lauren Chen told Patrick Christys that Biden is "absolutely" done as leader of the United States.
Chen added that the everyday American is "time after time" seeing Biden go viral for the wrong reasons, such as falling over or becoming confused.
When asked if Biden's Presidential chances in 2024 are over, Chen said: "There's no question that he is, whether you're Democrat or Republican, frankly just not physically and mentally fit to serve as President.
"Whether the Democratic Party agrees with that, that's going to be a different question, because he has maintained that he is absolutely going to be running again in 2024."
Chen continued: "But I think if you're a leftist, you have to eventually just embrace the idea, the truth that we can have a Bernie situation here – you can no longer keep propping Biden up as an actual legitimate candidate.
"If you look at how people are feeling regarding the economy, regarding immigration, there's a lot of trouble ahead for the Biden team."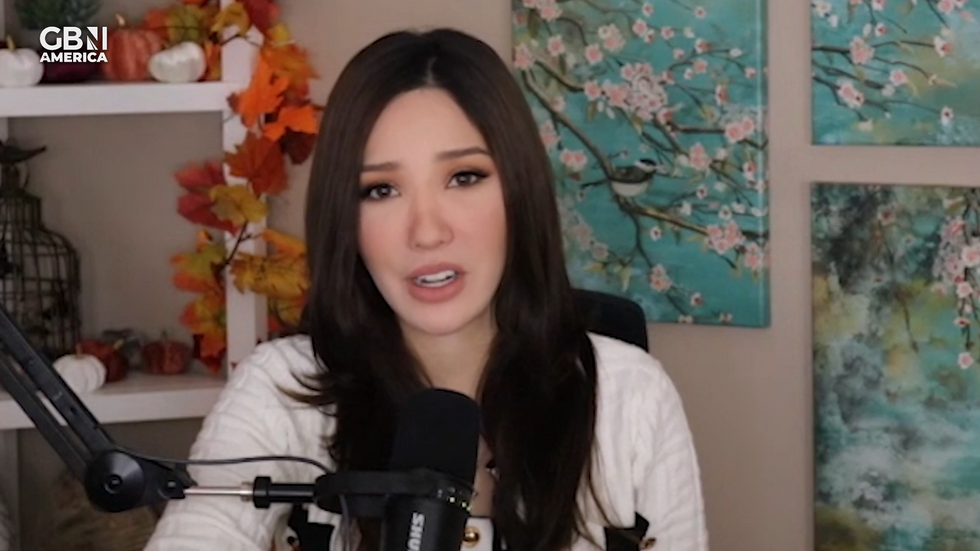 Lauren Chen says Joe Biden is 'physically and mentally fit to serve as President'
GB News
Patrick then asked Chen if Biden can be "trusted" to run for another term as US President, to which Chen revealed: "Of all the people that I would not want with the nuclear codes, definitely Joe Biden's probably at the top of the list.
"I think a lot of American taxpayers are looking at the way Biden is handling things, not only are their taxes going up, but we also see Congress, with the Biden administration's blessing, passing even more foreign aid packages.
"And with this whole Iran deal, Americans are looking at the conflicts in the Middle East thinking 'all right I am officially bankrolling both sides of this now'."
Chen added: "I think it's just a disaster foreign policy and there are a lot of criticisms made against Trump. There are a lot of people saying that his presidency would usher in World War 3 – I would like to know what those people's opinions are now.
"Looking at what's happened under Biden, with Ukraine, with Israel, it seems like once Trump left, actually that's when the world started to take notice that perhaps America is not in a position to be leading on the world stage."
Emily Foster is a globe-trotting journalist based in the UK. Her articles offer readers a global perspective on international events, exploring complex geopolitical issues and providing a nuanced view of the world's most pressing challenges.