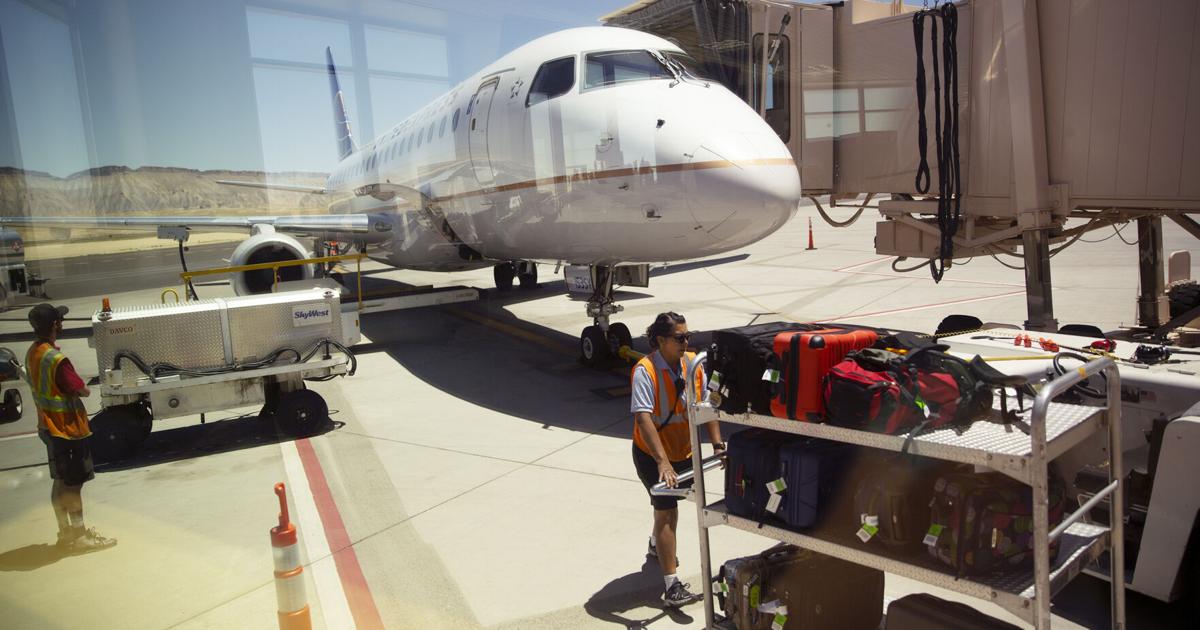 GJ Airport sees smooth skies ahead amid turbulence of flight, pilot shortages | Business
Grand Junction Regional Airport logged its busiest year of commercial traffic ever in 2021, with more than half a million passengers traveling in and out.
However, while passenger numbers took off from 2020's figures, the year wasn't without its fair share of turbulence — largely in the form of losing Delta's SkyWest connection between Grand Junction and Salt Lake City because of a pilot shortage that is only further worsening among U.S. carriers.
Angela Padalecki, executive director of Grand Junction Regional Airport, said its budget accounted for the expectation that it would see about 93% of the traffic it did before the COVID-19 pandemic. It would still make 2022 a solid year for the airport, but it wouldn't meet 2021's numbers because of fewer flights being offered.
"Right now, what we're seeing is that airlines are really struggling to fly the schedules they want, period," Padalecki said. "Delta being the example, we saw them exit our market, which felt crazy because the planes were full and they were making money on the route, but they needed to cut their schedule somewhere and for their strategy of being an airline headquartered in Atlanta, the Colorado Mountain West didn't fit in very neatly, so what we see now is, fast-forward about six months from that announcement, Delta is only serving Denver and Colorado Springs year-round in Colorado.
"As airlines are forced to shrink their schedules, their strategies start to pop out and you can see the areas where they're growing or maintaining pre-pandemic levels and those where they're having to cut back."
Padalecki said Delta's exit leaves a "two-problem hole." The first problem is the popularity of an air connection between Grand Junction and Salt Lake City, especially for businesses, citing Leitner-Poma of America and local hospitals.
The second problem is connectivity to the West. Even if another airline were to provide a connection between Grand Junction and Utah's capital, Delta's stranglehold on Salt Lake City International Airport as a hub means such a connection would offer limited options to connect to another destination with any airline that isn't the Atlanta-based giant.
However, Delta's absence might prove to be United Airlines' gain.
United's service between Grand Junction and Denver has been provided by smaller aircraft such as the Embraer 175 and Canadair Regional Jet, flown by contracted regional pilots.
But beginning Friday, one of four daily United flights from Grand Junction to Denver will be a mainline service courtesy of a 126-seat Airbus A319.
Depending on demand, the wide-body plane being implemented by United could become permanent.
"It's really exciting because it means (United) can grow in Grand Junction in whatever way they want to grow," Padalecki said. "That unlocks a lot of flexibility because regional airports, the local employees, they're not trained to work on and serve those large aircraft, but now, our United employees are, so our station is fully 'mainline-capable' — that's what we call it — and it means that, if they want to grow, they have a lot more options when it comes to the type of aircraft they can use to grow here in Grand Junction."
Additionally, Padalecki said she's hopeful that, in the next year or two, one of United's largest hubs will solve connectivity to the western United States beyond American Airlines connection to Phoenix.
"There's strong connectivity between San Francisco and the Grand Junction community," she said. "There's strong demand already to lean on, plus the San Francisco hub provides a lot of additional connecting opportunities, even in addition to what Delta provided out of Salt Lake City, so that was why we pursued the Small Community Air Service Development Program grant that we were awarded in February 2020. That $950,000 grant that had a $575,000 matching contribution from our Air Service Alliance, we still have that grant, and we still intend to use that grant, and the airlines intend to launch services using that grant."
The only issue making the timing of San Francisco's aerial introduction to Grand Junction uncertain is that traffic is still down 28% from pre-pandemic figures.
This means the San Francisco International Airport has largely emphasized restoring routes that have historically been successful. Once it returns to 2019 numbers, expansions into other markets should follow, especially if the pilot shortage wanes.
Harrison Earl, an Air Service Development consultant to the Grand Junction airport, detailed the complications negotiating with airlines and hubs after the disruption of the past few years.
One core issue is that the pilot shortage is anticipated to last a least a few more years. Another is that fuel is affecting airlines as significantly as it is Americans filling up at the gas pump.
"What we see right now across the overall industry is passengers want to fly," Earl said.
"People are looking to travel, and there's a record demand out there. The airlines, due to some of their staffing and not having the right aircraft in place, can't meet that demand. What that means is, this summer, we have fewer flights in Grand Junction and throughout the state of Colorado and across the country than we had last summer and pre-pandemic. The flights that we do have are far more full and far more expensive."
Grand Junction's Air Service Development assists with commercial service, such as coordinating with airlines and airports about routes.
Among their tasks is communication with Delta and the Salt Lake airport about restoring such a crucial connection.
"Ideally, passengers prefer non-stop flights, and if there's a non-stop flight that meets the need, that's obviously the best thing to pursue, but we're also looking at where the best hub is that would provide those connections, and you end up looking at combining a number of markets together where you can provide really good connections to a hub and help an airline build a business case from there," Earl said.
"We've had conversations with Delta, and we'll continue to have conversations with Delta, stressing both the importance to the local community of that non-stop flight to Salt Lake City and the industries and companies that use it heavily — we've gotten information from them directly to share with Delta — and also the connections throughout the West. … That said, we're not putting all our eggs in the Delta basket. We're certainly talking to other carriers, as well, about Salt Lake City connections."
Padalecki said she's meeting with representatives from six airlines to discuss where they are growing, which ones have restored connectivity to pre-pandemic levels and which hubs still lag.
Padalecki said one of the airport's major goals throughout the year is to maintain its schedule and budget to the extent possible in its Capital Investment Program (CIP) commitment to building the new runway that will be open by 2030.
Last September, the airport was awarded a late fiscal-year grant of more than $15 million from the Federal Aviation Administration (FAA), and because it was at the end of that grant cycle, the airport wasn't required to pay a 10% match.
This month, that money began to be poured into the runway project. Throughout this summer into next year, crews will be moving 2 million cubic yards of dirt onto the site of the future runway.
Next year into 2024, another 2 million cubic yards of dirt will be relocated. That's enough dirt to fill Denver's 20,000-seat Ball Arena more than eight times.
"It'll be visible from the terminal and when folks are flying in, they're going to start seeing a lot of construction next to the runway," Padalecki said. "That should feel like a sign of progress in the future because that new runway will be open by 2030 and fully operational, and that will be the primary runway that the community uses for the next 50 or more years, and we're finally building the runway itself."
The Airport Authority board extended the airport's lease with its concessionaire, Tailwind Concessions, and part of that is more kitchen equipment and, as a result, a greatly expanded food menu.
Padalecki said the concessionaire is undergoing a renovation to be completed in early July.
DENVER AIR CONNECTION
No plans are in place for Denver Air Connection to restore its service between Denver and Grand Junction, but she would welcome the service back with open arms if it was proposed.
She said the reason the flight is unlikely to return is that, where there was once scarcity in travel between Denver and Grand Junction, United and Frontier Airlines have stepped in to fill that need. Additionally, she said that Denver Air Connection has changed its strategy in the wake of the pandemic, and Grand Junction is not a part of that.
POSITIVE OUTLOOK
Earl said the future for air travel in Grand Junction is bright, despite some frustration for passengers amid current circumstances.
He said Grand Junction is well-positioned compared to many communities around the nation.
"There's a strong economy, the market's growing, and people want to be traveling to Grand Junction for business and leisure, as well all of western Colorado and eastern Utah," Earl said. "When you combine all of that with a community who values air service and is willing to invest in air service, particularly through the Air Service Alliance, there are only a handful of communities in the country who are doing that as well as Grand Junction is.
"I know it's frustrating right now without seeing immediate returns on that, but we will see really positive outcomes in the future from that."
Denial of responsibility!
Elite News is an automatic aggregator of the all world's media. In each content, the hyperlink to the primary source is specified. All trademarks belong to their rightful owners, all materials to their authors. If you are the owner of the content and do not want us to publish your materials, please contact us by email –
[email protected]
. The content will be deleted within 24 hours.