It is one of Britain's most expensive streets, earning the moniker "Billionaire's Row". Yet The Bishops Avenue in north London also has areas of dilapidation, with mansions there having been left derelict for decades.
Now, Britain's leading architects have drawn up a blueprint for building hundreds of affordable homes on the avenue. According to designs drawn up by firms including Mae, which last month won the Stirling prize, the UK's most prestigious architecture award, there is room for up to 300 homes on one particular site.
The proposals have provoked questions about how soaring land values, offshore property ownership and weak national and local planning powers have deepened England's housing crisis. This week, councils said the number of unoccupied homes in England had risen by nearly 60,000 since 2018 to more than a million properties.
In the past decade, the housing waiting list in the London borough of Barnet, where The Bishops Avenue is located, has more than tripled to more than 3,000 households – part of a 1.2m-household queue for social housing across England that is at its highest level since 2015.
Last month it emerged that a record 104,000 families had been forced into bed and breakfasts and other temporary accommodation in England, and councils warned that the £1.7bn annual cost could bankrupt them.
The current owner of the prime 3-hectare (7.4-acre) Bishops Avenue site is an Isle of Man-registered company whose beneficial owner is listed as a Cypriot businessman who gives a Dubai address. It has permission to build luxury apartments likely to sell for more than £200m with zero affordable housing, but there is no guarantee those homes will be built.
The council's policy is to demand at least 35% affordable housing on new developments, but the owners' agents negotiated cash contributions of £2.5m to its housing fund instead – equivalent to the price of a single apartment.
The site has fallen into ruin since the early 1990s when nine Saudi-owned mansions were left empty. The Guardian revealed the mansions' state in 2014 when it gained access to the properties and found crumbling swimming pools, collapsing ballrooms and ferns growing out of sweeping staircases.
Since then the buildings have remained unoccupied and been colonised by animals, whose skeletons litter the floors. Three mansions have been reduced to rubble and this summer a fire destroyed the roof of the largest, The Towers. They are among more than 675,000 empty homes in England, including over 250,000 homes left unused for at least six months.
Over the years, owners on the avenue have included the film star Gracie Fields, who lived on the site of The Towers, the former newspaper and pornography publisher Richard Desmond, a Nigerian oil billionaire and a Kazakh oligarch. Pop stars such as Justin Bieber have rented mansions. But it has also become internationally known for its empty and ruined homes.
At the request of the Guardian, architects drew up designs for affordable housing instead. Alex Ely, the director of Mae, drafted a plan for 240 one-, two- and three-bedroom apartments around a new arts centre, preserving the Towers under a glass structure.
Too often social housing is squeezed on to poor sites next to main roads or railways, Ely said, but "there are a lot more attractive places we should be building, like this".
Another firm, RCKa, estimated that up to 300 homes could go on the site – with a mix of social and privately rented flats and family homes dotted among trees.
"Is it right that there should be land like this sitting in a ridiculously expensive part of London that is unused?" said Russell Curtis, the RCKa director. "At the moment we don't have the policy levers to do anything about it."
He suggested the site should be opened up with public spaces, instead of the currently unwelcoming "really unpleasant environment where everything is gated".
But without national land use reforms, the schemes are likely to remain only on paper, as the history of the properties shows.
When the Guardian gained access to the rotting mansions in 2014, it found intriguing clues to their recent history. In one house there was a sheaf of invoices detailing a £7,314.54 order for kitchen equipment made in September 1992 including a "robot juicerator", teak salad servers and a melon baller.
In the basement of the Towers, built around 1992 on the site of a mansion formerly owned by Fields, were unopened wooden crates marked "bulletproof glass" – an indication of the security fears of the previous owners. It is believed they had been bought en masse on behalf of Saudi royals around a time of regional instability after Saddam Hussein's 1990 invasion of Kuwait.
In another mansion there was an old and jammed Arabic Olympia typewriter and a hotel-style sign warning: "Visitors may be asked to submit to a search of person or baggage by security staff."
In the early 1990s, the owner of the Towers and at least one of the other mansions was the Green Canyon Foundation, an entity that gave its contact only as the City law firm Eversheds.
By 2013, the properties were reported to have been bought by LJ Capital from the Saudi royal family. Land Registry records show that the owner from that year onwards has been Birch Ventures Limited, an Isle of Man-registered company whose beneficial owner is named as a Cypriot businessman, Ali Ansari, 54. He gives an address in the luxury gated community of Emirate Hills in Dubai.
A law firm representing the company said the property was in the process of being sold to a developer, and declined to comment on why the site had stood empty under its almost decade-long ownership.
Since the early 1990s there have been multiple planning applications lodged, approved and lapsed while, on site, nothing has changed. One local developer said an impasse had developed with owners not prepared to sell sites at low values and developers unwilling to buy due to the council's affordable housing demands.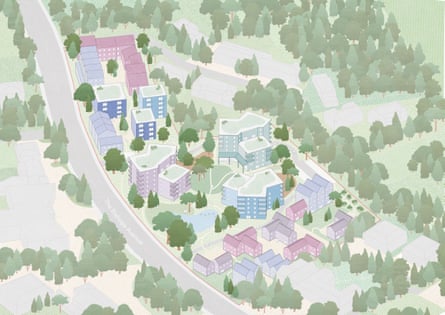 In August 2014, a year after the sites were sold for £73m, there was a planning application to demolish the largest mansion and five other houses and build 44 apartments in three mansion-style buildings over double basements. A deal was done that included the developer paying £4.5m to the council for affordable housing, which would be built elsewhere. But nothing happened. From time to time YouTubers descended on the properties sneaking through gaps in the fences to film the wrecks for content.
A different scheme for the same site was approved this year. This time is was for 65 flats and the agreed affordable housing contribution was lower, at £1.5m – an indication perhaps that the developers successfully argued rising land values meant it was less viable to provide more.
The story of three neighbouring mansions, Ilkley House, The Georgians and Redcroft, is similar. In 2014, Barnet council granted permission for replacement mansions. That permission led to demolition, but then expired, so for the past couple of years passersby have been confronted by large piles of rubble. A new permission was sought and was approved last month with a three-year window to be developed. The latest plan is for 33 apartments with a gym, pool, bar and games room. Again, officers sought a "policy compliant scheme of 40% affordable housing", but ended up agreeing a £1m payment instead.
There remains no guarantee either scheme will be built.
Ely said councils should be given stronger powers to seize vacant sites using compulsory purchase mechanisms and said affordable housing supply had slumped because of "an over-dependence on the market to provide" – a reference to this system of requiring developers to build affordable housing.
One alternative is for central government to increase subsidies to social landlords. This was the approach that led to councils building well over half of all new homes in the decade after the second world war (along with compulsory purchase powers to acquire land cheaply).
Today, said Ross Houston, Barnet's cabinet member for homes and regeneration, "transfer of ownership and the lack of a bringing forward sites is something that local authorities have limited power over".
The Labour politician called for new rules on compulsory purchase and land banking "so you don't get … buildings that nobody lives in and are becoming tatty. In Bishop's Avenue, this is the case."
He wants "greater powers to intervene when it's clear homes are just an asset". He said: "There are genuine issues about whether local authorities should be given more compulsory purchase powers as part of making sure areas do not do become blighted by lack of development," he said. "In Bishop's Avenue … a lot of the sites are owned by companies that may well be registered in the Cayman Islands or wherever else and it's quite hard to keep track of."
However, current land values on The Bishops Avenue would be too high for the council to afford to buy up sites, Houston said.
He said "the mismanagement of the national economy" has led to rising costs of borrowing and building, which means developers are likely to make less profit and so argue they can subsidise less affordable housing. "The profit that developers expect to get from development, I think, is set too high."
Nationally, Labour may soon have to decide how to tackle the issue as Angela Rayner, the deputy leader and shadow secretary of state for levelling up, housing and communities, said last month the party wants to push private developers to build more affordable housing as it sets out to boost housebuilding to at least 300,000 homes a year. History shows that relying on the private sector to build affordable homes has coincided with much fewer being built than in the 1950s, 1960s and 1970s.
Meanwhile, thousands of families in Barnet are in urgent housing need at the same time as a swathe of land at the heart of one of Britain's most sought-after addresses remains desolate and unused.
William Turner is a seasoned U.K. correspondent with a deep understanding of domestic affairs. With a passion for British politics and culture, he provides insightful analysis and comprehensive coverage of events within the United Kingdom.