Key events
Anyway … thanks for joining me. Hopefully the booking shenanigans will be cleared up in due course.
Here is Sophie Downey's report from Stamford Bridge.
It looks like … and my apologies for this … that the TV commentary team got it wrong and Holland was not booked initially, instead it was James but I am awaiting confirmation.
Emma Hayes: "Brilliant players, brilliant people. This year there is something different in our dressing room and that's not just because of different personnel. I trust every player and when we make chances I know they can cope. After the week we have just had – we have been travelling non-stop – that was an amazing performance.
"Lauren knows what I think of her and she is someone that is still a young player. Today she showed the best of herself in both sides of the game.
"It's all about the team. I am really enjoying watching them at the moment."
Matt Beard: "Desperately disappointing but Chelsea are a top side. We cannot gift the goals we did to Chelsea today. We've been well and truly punished today. We should not be conceding five goals.
"We let ourselves and the fans down today. Chelsea had more desire today. We cannot freeze like we did today, it's not good enough."
Hayes is doing a lap of honour and having the time of her life.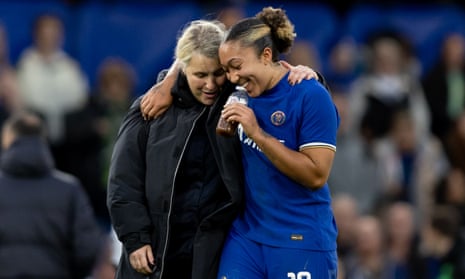 Lauren James: "Amazing [to score a hat-trick]. Even better to do it at the Bridge. With the news that Emma is leaving, I am forever thankful to her.
"She told me how proud she is and what she wants to achieve this year. I've had a difficult week with the news [that Hayes is leaving] and just wanted to do that for her.
"When I am playing with a smile and happiness, who knows what can happen?"
I should probably focus on how good Lauren James is rather than being concerned by this trivial double booking. She was getting going both ways on the left; she can cut in and go on the outside and was dangerous throughout.
The only explanation is that the first booking was given to someone else and the BBC got it wrong. Hmmm ….
I am not fully focused on what happened with Ceri Holland. BBC said she was booked in the 64th minute and then again in injury-time. I am confused. Talk me through it
Full time: Chelsea 5-1 Liverpool
It was the Lauren James show as Chelsea extend their lead at the top of the table.
90+6 mins: I have watched it back and the indication is Holland was booked for talking back to the ref earlier. Should she not be off? Did the TV coverage get it wrong?
90+5 mins: Clark tackles Lawrence to give away a corner. Laws punch clear for another corner. Chelsea are now into timewasting territory.
90+2 mins: Ermmmm… Holland takes down Lawrence with a bit of a swipe and is booked. Was she not booked for moaning at the ref before?
90 mins: Eight minutes added on. Still hope for Liverpool? No, of course not.
88 mins: Gilly Flaherty gives the player of the match award to Lauren James. I am shocked, shocked I tell ye.
86 mins: Roman Haug is replaced by Lawley for Liverpool.
84 mins: Liverpool are still rattling into challenges but this game is done.
82 mins: Fleming's first involvement is a dreadful backpass which Roman Haug latches onto but Musovic comes out quickly to put off the Liverpool forward, who barely makes contact.
81 mins: Nusken and Cuthbert off, Fleming and Kirby on. That's a 100th WSL appearance for Kirby at Chelsea.
80 mins: Hinds pings a well-struck shot just over the bar from 30 yards.
GOAL! Chelsea 5-1 Liverpool (Nusken, 78)
James starts the move again by slipping a pass through for Kaneryd, who lays the ball on a plate for Nusken to tap in.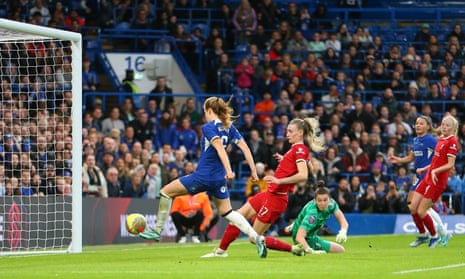 76 mins: Cuthbert pings a clearance upfield but also succeeds in whacking into the hoardings.
75 mins: Chelsea changes: Lawrence and Fishel on, Charles and Kerr off.
74 mins: Liverpool changes: Kiernan and Parry on, Van de Sanden and Koivisto off.
David Wall emails: "re: Suzanne Wrack's article below, is one of the reasons that women's sides might struggle to fill larger stadiums because they only play a handful of matches there each season. I'd have thought the aim is to get a larger number of people into the regular match-going habit. Just as a supporter of the men's side will arrange their social lives around going to the game every fortnight, it would be hoped the same is true for a supporter of the women's side. But if, say, 30,000 go along to somewhere like Stamford Bridge, but only 5,000 can attend the next game at Kingsmeadow, then even if most of those 30,000 want to go to the next game, they can't. So it becomes very difficult to build up the match-going habit. Perhaps they'd have more success attracting larger crowds if they played every game at the main stadium, accept that it won't be at capacity to begin with, yet aim to build it through word of mouth from those who do attend regularly and become committed to going along."
72 mins: James gets down the left and causing plenty of problems. Her cross reaches Ingle who heads for goal but Bonner is there to divert for a corner.
Adam emails: "I hope you're well! Lauren James is quite good at football, isn't she? Not the most incisive commentary that'll be provided about this match, but what a game she's having."
It's better than my offering.
70 mins: Van de Sanden is bundled over on the left flank. The resulting free-kick finds Roman Haug at the back post; she heads the ball towards the corner but Musovic produces a great save and then Perisset clears off the line. Kearns thinks the ball has gone out of play and picks it up, only to be penalised for her naivety.
68 mins: It might be 4-1 to Chelsea but the crowd do not seem particularly excited about this. All a bit flat in the stands.
66 mins: I am sure Liverpool will complain about the non-award of the penalty but it did not have much going for it, in my opinion.
What they cannot complain about is the quality of James who just looks a level above everyone on the pitch.
GOAL! Chelsea 4-1 Liverpool (James, hat-trick, 64)
Kaneryd makes an immediate impact off the bench. She gets down the right, cuts back inside the box and then picks out the onrushing James who pings the ball in from eight yards.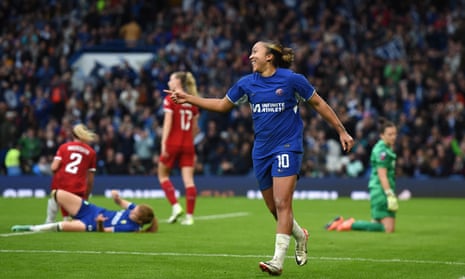 62 mins: Musovic fails to claim a Van de Sanden cross and Chelsea have to accept conceding a corner to end the danger. Kearns bings it towards the back post but the goalkeeper does well to punch clear.
Van de Sanden lifts a cross into the box which is cleared out to the edge where Holland is waiting. She takes a touch and goes down under pressure from Cuthbert. It looks like the Liverpool player gets a little nudge from Cuthbert but it would be soft penalty. Regardless Holland keeps complaining and gets a booking for her words.
60 mins: Laws collects a backpass on the edge of her six-yard box and decides to use a smart bit of skill to bypass an onrushing Chelsea forward. Nerves of steel from Laws.
58 mins: Chelsea will feel pretty confident of getting the job done after extending their lead. Liverpool will need to up it even more so.
GOAL! Chelsea 3-1 Liverpool (James, 56)
She's been the best player on the pitch and deservedly adds to her tally. Kerr lays it off to James on the edge of the box, she takes a couple of touches and then fires across Laws into the corner. A super finish.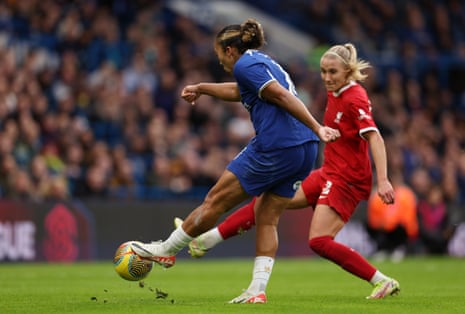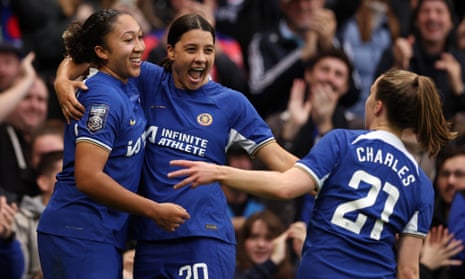 55 mins: Carter has the chance to clear up the line but she is hounded by Holland who wins a throw-in off the Chelsea defender. There has been a bit more energy about Liverpool since the break. They must be hoping Chelsea will tire after their midweek game against Real Madrid away on Wednesday night.
53 mins: Kerr was barely involved in the first half but has had a few opportunities to do damage already since the break. Every time the Australian receives the ball, the crowd get on their feet.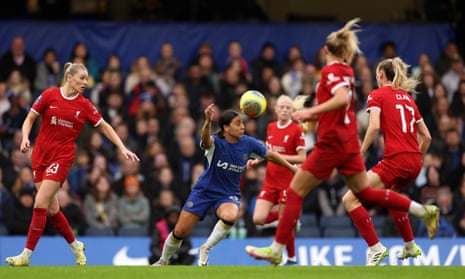 51 mins: Hinds looks to pick out Kearns who is free in space but the pass has a little too much on it and it goes ahead of the Liverpool sub, allowing Chelsea to mop up.
49 mins: Mild carnage in the Liverpool box. Kerr's cross is deflected up in the air but Laws is completely unsure about what to do and gets nowhere near the ball and is beaten to it by Nuskens, who flicks on but Liverpool manage to scramble clear before Ingle can poke home.
47 mins: A dreadful pass from Perisset across her own box goes straight to Van de Sanden, who takes a touch and takes aim but Musovic is right behind it.
A Liverpool change at the break: Kearns on for Hobinger.
Here we go again!
Sign up for Moving the Goalposts!
Half time: Chelsea 2-1 Liverpool
The Blues have edged it and earn the lead but Liverpool have more than held their own. James and Van de Sanden are the two most dangerous players on the pitch. This game is perfectly set up for an exciting second half.
45+2 mins: Liverpool get very lucky. Hobinger is not looking and plays the ball back to Laws but Kerr is lurking and blocks the clearance, only to see it bounce just wide. Not the most bit of play from Liverpool.
45 mins: Four minutes added on.
42 mins: Kerr is pulled down by Bonner inside the centre circle to stop the Australian getting beyond her and going through on goal. The referee rightly gives her a yellow for a very cynical foul. The resulting free-kick is pinged into Laws' arms.
Sophie Anderson, a UK-based writer, is your guide to the latest trends, viral sensations, and internet phenomena. With a finger on the pulse of digital culture, she explores what's trending across social media and pop culture, keeping readers in the know about the latest online sensations.