Charles Leclerc took pole for the inaugural Las Vegas Grand Prix, delivering a superb lap on the streets of the circuit that winds through the heart of the city. He beat his Ferrari teammate, Carlos Sainz, into second, but the Spaniard will take a 10-place grid penalty after he had to fit a new battery because of the damage he sustained when his car was struck by a drain cover on Thursday. World champion Max Verstappen was third for Red Bull.
Lewis Hamilton had a disappointing run, knocked out in Q2 in 10th place, while his teammate, George Russell, was fourth for Mercedes. Pierre Gasly was fifth for Alpine.
With track evolution crucial on a street circuit rubbering in as the session went on, times were coming down as the clock counted down, making for a last-lap shootout. Leclerc had set the pace with his first hot lap, with a 1min 33.021sec run two-hundredths clear of Sainz, with Verstappen in third. The Monegasque driver was clearly hugely confident. He was one of the first to start his last lap and while down on the opening third his middle sector was immense, enough to seal the pole with a time of 1:32.726.
Sainz came close, four-hundredths back. Verstappen, who has not been at the very front all weekend on a circuit he has made clear he does not like, could not respond, finishing a full three-tenths back.
Leclerc became the third driver to have taken pole in Las Vegas. The city hosted two meetings as the Caesars Palace Grand Prix in 1981 and 1982. Carlos Reutemann took pole in 1981, Alain Prost in 1982.
This was Leclerc's fifth pole of the season. He took pole in Baku and inherited the top spot in Spa when Verstappen was given a grid penalty and was once more quickest in the US and Mexico, but has yet to convert any of them to a win. He will be hopeful of a strong showing again but while Ferrari have been promising over a single lap, Red Bull are still likely to be quicker once more in race pace.
It is his 23rd career pole, a fine tally but one undermined by a low conversion rate of five wins, an indication of how Ferrari have consistently failed to deliver a suitably competitive race car in recent years.
Hamilton appeared to be unable to eke out more from his car, telling his team he simply "couldn't go faster".
Before the session had begun, F1's handling of the fall out from the debacle of Thursday's practice sessions had not gone down well. Fans attending practice had been able to watch eight minutes of the cars on track. The first session was stopped within five laps after Sainz's Ferrari was struck violently by a water-valve cover, bringing practice to a close as the FIA had to inspect and confirm the integrity of the other 30 covers on the Strip.
It caused a five-hour delay before FP2 could begin at 2.30am. However, an hour before that, fans were told to leave because F1, who are promoting and organising the race, had contractual and transportation problems maintaining their staff at the circuit. Enormously disappointed fans, many of whom had paid huge sums, were forced to leave while the second session went on behind closed doors.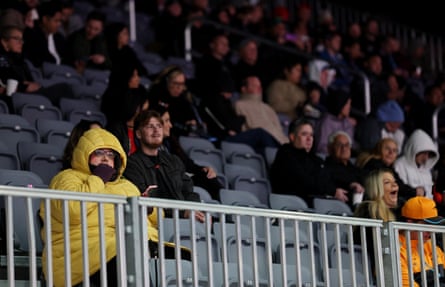 On Friday morning, the F1 chief executive, Stefano Domenicali, and the Las Vegas GP CEO, Renee Wilm, attempted to explain the circumstances behind their decision to ask the fans to leave, largely citing safety and security reasons.
"We have all been to events, like concerts, games and even other Formula One races, that have been cancelled because of factors like weather or technical issues," they said. "It happens, and we hope people will understand."
It noticeably did not contain any apology across the 650 words. This is believed to be for legal reasons, to avoid the organisation being open to lawsuits if it had made an admission of guilt. It has been highly criticised as a further insult to those who had been prevented from seeing almost any track action.
No compensation was offered to fans with three-day tickets but Thursday-only ticket holders were promised a voucher worth $200 to spend in the Las Vegas GP official store. Many fans did not believe this represented sufficient compensation, particularly astheywere online only and did not include shipping costs.
Once the racing resumed, Alex Albon and Logan Sargeant were an impressive sixth and seventh for Williams, Valtteri Bottas in eighth for Alfa Romeo, Kevin Magnussen in ninth for Haas and Fernando Alonso in 10th for Aston Martin.
Sergio Pérez was 11th for Red Bull, the team mistiming his runs in Q2. Nico Hülkenberg was 13th or Haas and Lance Stroll was in 14th for Aston Martin but will take a five-place grid penalty for overtaking under yellow flags during practice. Daniel Ricciardo moved to 14th for AlphaTauri.
The two McLaren drivers had a poor run, with Lando Norris finishing in 15th and Oscar Piastri in 18th. Esteban Ocon was in 16th for Alpine. Guanyu Zhou was in 17th for Alfa Romeo and Yuki Tsunoda in 20 for AlphaTauri.
Sophie Anderson, a UK-based writer, is your guide to the latest trends, viral sensations, and internet phenomena. With a finger on the pulse of digital culture, she explores what's trending across social media and pop culture, keeping readers in the know about the latest online sensations.